With space at a premium in so many homes across the UK, lots of us are searching to find those extra inches. From loft rooms to basement conversions and side-return extensions, we're definitely getting good at maximising our living spaces. Another great way to gain that much-needed extra room is through a garage conversion. If this is a potential option for you, consider these factors before taking the plunge.
Know the regulations
Garage conversions will rarely require Planning Permission if you're not extending the structure and the footprint and elevations are staying the same. However, if there's to be a significant change to a visible façade of the property, it's probably best to submit an application. This gives the opportunity for any objections to be raised and you can then continue to work with peace of mind.
What you do need to study are the Building Regulations. Converting from a garage to habitable space will require a specification regarding foundations and substructure, energy efficiency, sound insulation, ventilation and so on, to make sure it's OK to be lived in. A skilled builder or architect can take you through everything you need to know.
Traditional kitchen, England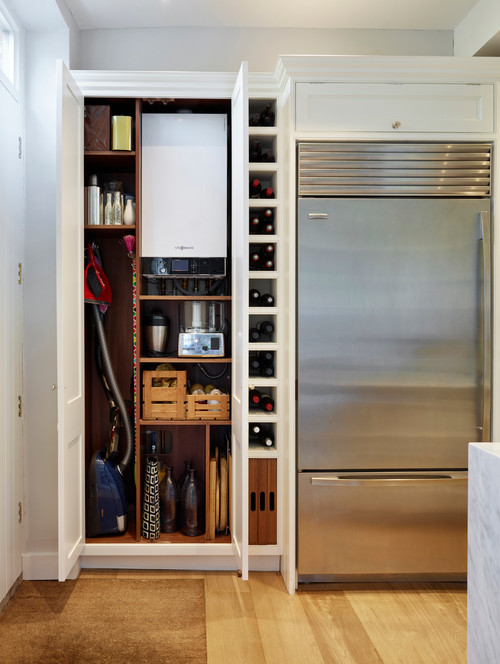 Photo by Moneyhill Interiors - More traditional kitchen ideas
Investigate existing features
Check the industry-specific regulations surrounding existing features (for instance, the 'Gas Safety (Installation and Use) Regulations 1998' for gas heating). If there's a combi boiler in the room already, for example, ensure you include the proper carbon monoxide detection and ventilation provision in your plans. Again, your builder or architect will be able to guide you through this stage.
Sort the foundations, substructure and superstructure
To turn a garage into a living space, the garage door will more often than not be filled in with masonry (possibly including a window and door).
If the walls of the garage are single skin or otherwise structurally inadequate, you may need to build a new external leaf of masonry, generally with a 100mm-150mm insulated cavity. If this is the case, the footings will need inspecting (by way of something called trial holes) to ensure they're up to quality. If not, new ones will need to be installed.
The best way to know whether your building is good to go is to have a professional come in and take a look at it for you. This could be a builder, or an architect who might then instruct a builder if any physical exposure (drilling, cutting, digging and so on) is required.
Plan heating, plumbing and electrics early
The functionality of the new space must be properly supported by utility services, so thoroughly plan your heating, lighting and electrics. You might go for underfloor heating to save wall space, or you might extend the existing central heating system (but be sure an engineer calculates the BTU requirements and capability of the existing boiler). Also make provisions for any hot and cold water supplies if you're planning to install a basin, toilet or shower. With lighting and electrics, it's important to plan for plenty, to avoid having to add in cables, sockets and lights at a later date.
Make it energy efficient
Whether the space is to be a studio apartment or simply an additional living room, it will need to hold heat better than a normal garage. Insulation is key, both in terms of the quality and installation. If possible, look at the various brands of SuperQuilt multi-foil, which achieve extremely low heat loss without taking up too much space. It's important to do this properly, as even the smallest break in the system will result in 'cold bridging', which impairs the efficacy and can lead to condensation and mould.
Maximise your space
Especially in the case of garages being converted into bedrooms, living spaces or kitchens – otherwise known as areas of high utility – you will want to be smart and get the most out of the new space. Opt for foldaway or retractable features. This may include beds, worktops, sliding or pocket doors – basically anything that can 'disappear'. Also think about installing hanging racks or cabinets. Ceiling space is generally dead space, so make it work harder with an extra storage solution suspended from the ceiling with wire rope. It can make the difference between cluttered chaos and a serene sanctuary.
See 9 common mistakes to avoid when space is tight
Use the full height of the space
Even if it means a bit of structural work and installing a steel or two, it's worth creating an extra layer of usable space if you have the height and budget for it. From a simple raised bed with a work space or living area below, to a proper mezzanine containing a fully functional room, adding in another layer helps you make so much more of the space. Where this is not possible, make sure you use wall space to its full potential with cabinetry and shelving.
Discover ingenious storage solutions for small-space living