If you've dismissed the dream of a walk-in wardrobe because of a lack of space or finances, think again. You might still be able to have deluxe stylish storage – it will just call for some creative thinking.
Professional advice from: Mykhailo Kharkovoi of Urban Wardrobes; Rachal Hutecheson of Sharps Bedrooms; Wane Borg of The Heritage Wardrobe Company.
Industrial wardrobe, London
Explore the benefits of a walk-in
Walk-in wardrobes tend to be more expensive than freestanding ones, but the price difference can be offset by the convenience they offer. Their main benefit is easy access and easy-to-organise storage.
In addition, they can be designed to fit your space and your clothing tastes exactly. Love long dresses? You'll need taller hanging spaces. Have hundreds of pairs of shoes? Get yourself a series of pull-out drawers. Or perhaps you have an impressive collection of ties. If so, invest in a dedicated tie rack.
Discover great ideas for shoe storage
Divide your bedroom
Once you've committed to a walk-in wardrobe, your first step is to decide where to put it. If you have a large bedroom, consider dividing it with a stud wall and either hanging a door or leaving the entrance open to create a seamless transition between bedroom and wardrobe.
Here, a partition doubles up as a headboard. A stud wall could be left open on both sides, but these owners have created a more enclosed wardrobe by extending the partition to the far wall, forming a bookcase on the bedroom side and extra storage in the wardrobe.
On a tighter budget? Create a partition with pretty curtains or sliding doors. "They're a simple and stylish way to section off part of a bedroom, as they slide along rather than opening outwards," says Rachal Hutcheson of Sharps Bedrooms. "There's a multitude of different styles, colours and finishes to choose from, so you can completely personalise the scheme."
Partitioning your space means sacrificing square inches, but you'll no longer need freestanding pieces, such as a wardrobe or chest of drawers, in your room, giving you the potential to make it more restful and clutter-free.
Steal space from elsewhere
If borrowing space from your bedroom isn't possible, think about stealing it from somewhere else – a large landing, for example – or even converting a whole room. It will need to be adjacent to, and accessed via, your bedroom or en suite bathroom to provide the full benefit of a walk-in wardrobe.
Another emerging trend is to create a walk-through wardrobe using the interlinking space between two rooms: a master bedroom and en suite, for example. Measure up carefully to make sure this option is practical. "You ideally require 600mm depth for clothes hanging and 800mm of walkway," advises Wane Borg of The Heritage Wardrobe Company.
Dream closet, America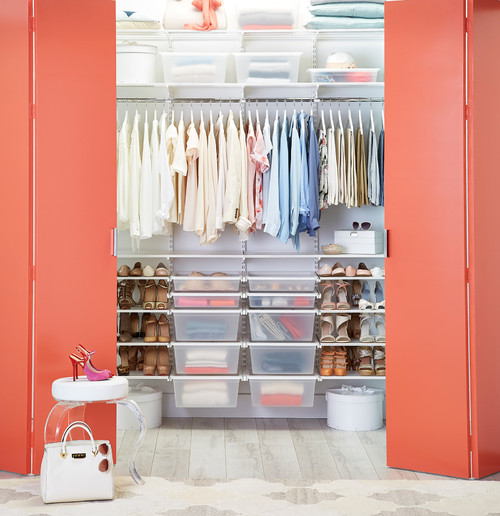 Keep it small and simple
There's a misconception that you need lots of room for a walk-in wardrobe. In fact, you can often repurpose existing space. For example, you could turn an alcove into an open-front, walk-in wardrobe, thus saving money on doors. Sometimes, a change of thinking can help: if you can step into the space (as opposed to simply reaching into it), you have a walk-in wardrobe.
"Even if you have a small amount of space, if it's designed in the right way, it can still be a great solution to your storage needs," says Mykhailo Kharkovoi of Urban Wardrobes.
Decide what storage you need
There's no rule of thumb when it comes to kitting out your walk-in wardrobe. The type of storage you need simply comes down to what you own. If you have to stash bulky ski gear, for example, go for deep drawers. Shallow drawers are ideal for smaller items, such as jewellery, watches and cufflinks.
If you have an abundance of shorter items, such as shirts, skirts and jackets, two-tier hanging is an excellent space-saver. Don't forget a handy tilt-out hamper to keep laundry out of sight.
See 10 times built-in storage has transformed a bedroom
Make the most of the space
Combine floor-to-ceiling units with some forward planning to make sure you're not wasting any spare inches. Think ahead about when you'll need to access your clothes: keep seasonal and occasional garments on top shelves, so there's plenty of space for the clothes you need every day. Invest in a slide-along ladder or a set of portable steps for when you need to reach those top shelves.
If you're the type of person who only wears the clothes you can see, look into open shelving and glass-fronted doors. You'll get an instant overview of everything you own, including lesser-worn items that could benefit from an extra outing.
Finally, if you're sharing the wardrobe, plan how you're going to divide it so everyone can benefit.
How to share a small bedroom without falling out
Transitional wardrobe, London
Stay on budget
You don't need to spend a fortune on a walk-in wardrobe. If your budget is tight, look to companies with DIY collections. You'll be able to mix and match storage to suit your budget and space. With everything priced individually, you can keep an eye on what you're spending.
A step up from this is to choose pieces from an existing range, something a number of bedroom retailers will provide. In this instance, design experts will measure up for you, discuss what you plan to store in your walk-in wardrobe and consider your lifestyle, before producing a drawing using items available in their range.
Drawers are generally more expensive than shelves, so folding garments that won't easily crease and stacking them on shelves is one pocket-friendly solution.
Kharkovoi suggests investing in the finish of the doors and using simpler materials for the carcass. "Never compromise on the quality of hinges, drawer runners and handles," he says.
Wardrobe, England
Blow the budget
If you want the next level of customisation, be prepared to spend more money.
Look for high-end retailers to your taste or, alternatively, approach a reliable furniture-maker and ask them to design a walk-in wardrobe that's exclusive to your space. This option isn't cheap, but the results can be impressive.
"There's something special about being in a bespoke walk-in wardrobe designed and crafted to your exact specification," says Borg. "Turning a dysfunctional, underused space into a functional elegant storage area ensures every possible inch is fully optimised without the restraints of conventional freestanding furniture."