If you've been tackling summer in the city, take inspiration from these urban dwellers, who have created bijou city escapes high in the sky. From a smart café-style terrace to a shabby chic snug, these homeowners have their heads happily in the clouds. Browse through and borrow their ideas…
Modern dining room, London


Photo by Hannah Brown - Discover contemporary dining room design ideas
Extend the room
This bijou balcony acts as an extension of the living space in this chic London apartment. Smart, tailored outdoor furniture makes a visual connection with the dark wood dining table, and the muted colour palette ensures the eye flows seamlessly from inside to out. Smart box hedging creates a 'wall' and muffles noise from the street below.
Get more ideas for terraces and balconies by browsing these photos
Loggia patio, Amsterdam
Paint dark brickwork
A simple coat of white masonry paint has transformed this small brick balcony into a bright, airy terrace. A corner sofa makes the most of every inch of space and the cushions, rug and accessories stamp some personality on the compact space.
See ideas for how to make a small garden feel bigger
Eclectic veranda, America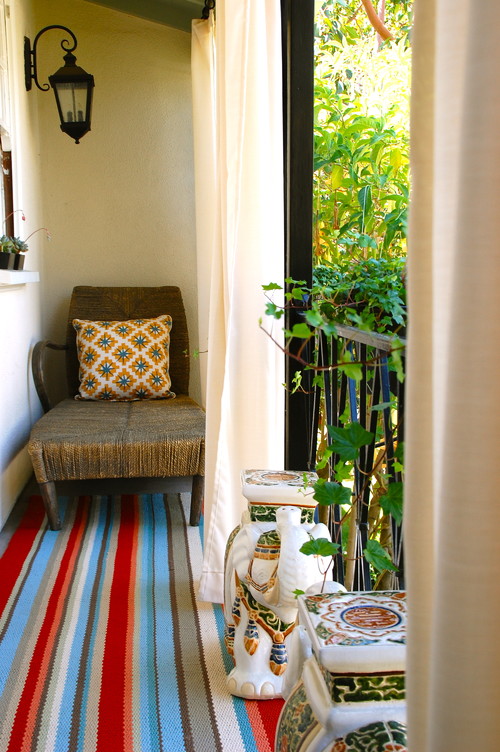 Use stripes to draw the eye
Vertical stripes elongate this tiny balcony space and add a cheerful splash of zingy colour. Long white linen drapes flutter in the breeze and can be drawn for shade or privacy if required.
Contemporary bedroom, America
Build in seating
This summer balcony makes the most of every inch of space thanks to an unobtrusive built-in bench running the length of the terrace. It's perfect for seating three or four summer guests or even for stretching out on for an afternoon nap.
Contemporary terrace and balcony, London
Create a footpath
These homeowners have created the illusion of a smart pavement terrace by laying paving stones on their balcony with a narrow edging of gravel. Chic iron furniture with plush grey cushions boosts the feel of a smart London terrace.
Traditional patio, America

Follow the sun
Balconies often only get sun at a certain time of the day, so you will want to make the most of every last drop. Portable loungers like these make it easy to follow the sun around a small space and bask in every last ray.


Modern terrace and balcony, Canada
Choose slim furniture
A slim wooden console table and bench provide storage and seating on this balcony without taking up valuable floor space. The wooden slats allow light to filter through and keep the space feeling bright and airy. A recessed shelf provides space for plants to flourish, creating a leafy garden mood.
Small garden, America
Create a plant screen
Not only do balcony plants offer you essential contact with nature and a chance to grow your own herbs and vegetables, they create a handy screen from people on the pavement below and can help to filter traffic fumes.